Steve Jobs had a break from his medical leave to unveil Apple's second-generation tablet, iPad 2. It is definitely an upgrade from its predecessor that could assist the company in driving away competition in the growing tablet market.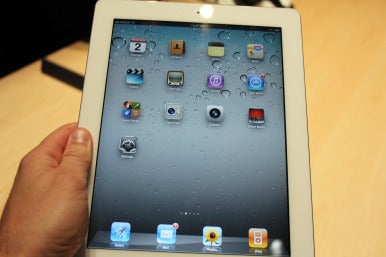 After receiving a standing ovation, Steve Jobs said to the crowd, "we've been working on this product for a while and I just didn't want to miss the day."
With Jobs announcement, Apple shares increased instantly, surging by 4% in midday trading. Jobs, who has fought with pancreatic cancer for awhile now and has taken a medical leave of absence in mid-January, threatened to upstage his own creation with his out of the blue arrival.
Wearing his signature black turtleneck and blue jeans, Jobs flashed iPad 2, a thinner and lighter tablet than the original and will come in two colors namely, black and white.
With the success of iPad since it was launched last April 2010, Apple has sold more than 15 million units generating a whopping $9.5 billion in revenue for the tech company and running away as the best tablet. Many forecast that Apple could sell double that number of units this year.
Jobs called his latest product iPad 2 and will be available on March 11. It will go on sale starting at $499, same price as the original iPad, for Wi-Fi only. Price will go up to $829 for 3G version. Customers are required of a contract from networks AT&T or Verizon if they prefer to go 3G.
The new features of iPad 2 are as follows:
1. It is lighter now (1.3 pounds) than before (1.5 pounds)
2. It comes with a back and front facing video camera for use with FaceTime video chat
3. It has a new and faster processor which also has low consumption on energy
Jobs also showed off a new iPad 2 case. Apple said the previous cover for the first generation tablet was a little bulky and probably got in the way with performance. The new iPad 2 case, called "smart cover", magnetically connects to the front of the tablet to make a type of screen protector and routinely puts the iPad 2 into sleep mode when the case is attached.
Image courtesy of MacWorld.
Related posts: